I am on a Path to Change my World through Music - Adedayo Sekere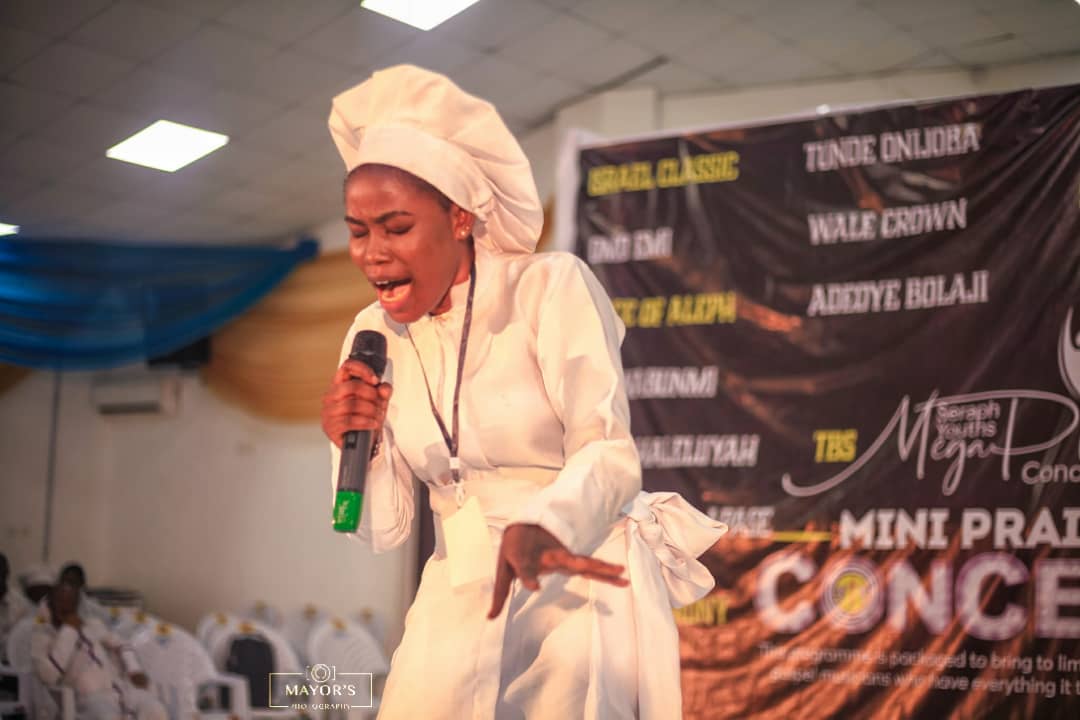 Adedayo Dauda, popularly known as Adedayo Sekere, is a minstrel with exceptional touch, skills in her voice, and ministration. In an interview with our correspondent Gideon Akog and Shola Afolabi, where she shared her plans to impact her world through her music in our  "SERAPH MINSTREL" edition. Seraph Minstrel is a newly unveiled category of Seraph Stories dedicated to introducing, showcasing, and sharing stories of C&S gospel artiste all over the globe.
Can we meet you ma?
My name is Adedayo Dauda, popularly known as  Adedayo Sekere. I'm a Creative Art graduate of the Tai Solarin University of Education. I'm a native of Ogun state, Ijebu precisely.
At what age did you discover that you could sing?
I started singing while I was in primary school because I used to be the assembly perfect in school back then but I could say I discovered it when I was in primary six.
What inspired you into music?
I first got inspired by Shola Allyson, I have always loved her style of music and I still love it so much. All good musicians inspire me as well but God has been my main source of inspiration. Listening to good music also inspires me to do more musically. Also, there was this brother of mine whom right now, I can't remember how I met him. He once heard me sing and was surprised and that made him gave me songs by Ebenezer Obe to listen to for a couple of weeks and really, those old songs helped me a lot although I did more classical music at that time. He didn't teach me music but helped me in his little way and although he is late now, he remains unforgettable.  Another thing that inspires me is my environment; the things around me, the happenings around me, and all.
As a gospel artist, who would you like to collaborate with?
Of all Nigeria gospel artists, I will love to sing alongside Shola Allyson. Yeah! I've always admired her; I love her so much. For gospel artists in the diaspora, I love to sing with Jonathan Mcreynolds, I love that guy,  Oh Lord!  His music is great! I love his songs like Grace, People. I particularly love that song "People", I try to imagine what he was thinking when he wrote that song.
Have you ever had stage fright? 
Honestly, this is what I experience all the time. Whenever I am invited to minister, the first sight of people; other musicians and guests get me so nervous and most times I'm like what am I going to do? Hearing other artists sing makes me scared and sometimes, I begin to doubt myself going by the thoughts of "this people can sing " but to the glory of God, whenever I mount the stage, all these thoughts vanish and it's like I am entirely in a new realm. I call this grace because I have never been stranded. If I had planned to sing  E se baba, e se…  when I get to the stage, it suddenly changes and I do not even remember that, as God just takes full control. I am indeed graced.
Being a big fan of yours, I have seen a lot of your videos and they inspire me. I followed your live videos last week and I saw how you combined the C&S hymnals and Celestial hymns. How did you come about doing that?
Honestly speaking, we C&S do not appreciate what we have. I have also noticed that whenever people do not appreciate what a person does, one gets so discouraged although the ministration is unto God. This was the case for me as I felt that what I was doing wasn't good enough and I began to add the Celestial hymnals because they inspire, motivate, and encourage me a lot. The Celestial people appreciate the C&S hymnals. They even share the C&S hymnals but it's quite unfortunate that the C&S platforms I know of will not even show that they like such posts, how much more leave a comment, or even share with others. I get invited to celestial churches often and this is a major reason why I need to learn their hymnals. These are the reasons why I chose to combine both the C&S and Celestial hymnals. I love them so much. I just finished a hymnal session before this interview started. It was a celestial guy that did the instrumentation and sent it to me but C&S guys won't do that normally. The Celestial people are better at encouraging and are ardent lovers of the C&S hymnals. 
Has the C&S Church had any impact on your career since you started? If yes, in what way?
Yes, a very big yes, because I started from the church. It has always been the church, church, church, growing up because it's my mum's church and we don't have many choir members. Our choir back then was a family tiding. It was I, my mum and my sister that sings in the choir, my brother plays the drum. Getting older, my sister got married, and doing it consistently alone has been the major reason why now I can do it better. My church as being the number one inspiration, I mean the impact on my music career.
You performed at "CELEBRATE THE COMFORTER 2019"(Your song was the opening performance ), How was that experience like?
Yes, it was great, I wasn't expecting it, I mean there were a lot of people on the stage. I was graced and it was really lovely. it's something I can never forget like singing with thousands of people. I was a little bit frightened, scared but someone came telling me "Dayo you can do this",  you can do it". So I went on with it and it was great.
In five years, where do you see yourself?
In five years I see myself touching lives through my music. not C&S members, not Celestial members but the world. I have always wanted to create a song that not only the Christians can listen to but the world. "I want to create a world, I call it my world". 
What are your plans for C&S and the body of Christ?
God's willing, I pray that I'll be able to change people's mentality about the C&S church, especially through my work. People who don't identify with the church now do so because of the likes of Mummy Esther Ajayi and others. I'm grateful to God that people are beginning to rewrite the story of the church and I hope that someday, I'll do that as well.  
What advice would you like to give to youths and teenagers that look up to you?
I will say they should appreciate themselves and strive to be the best in their endeavors. They should keep moving, striving, and eventually get there someday. I'm not there yet but I know I will get there eventually because Rome wasn't built in a day! We keep moving.
So far so good, what would you say has been a major challenge for you?
A challenge? It has been my mom. She has never liked me singing; she complains so much about it but recently, she began to pick interest in this career path of mine seeing that I was so passionate about it. Today, she's my biggest Fan despite all odds, irrespective of her complaints. When I'm recording a song, she will eventually be the first person to view the Video and commend me for it.
Leave Comments