"Although there had been revelations, I never envisage doing music"- Layo Sobo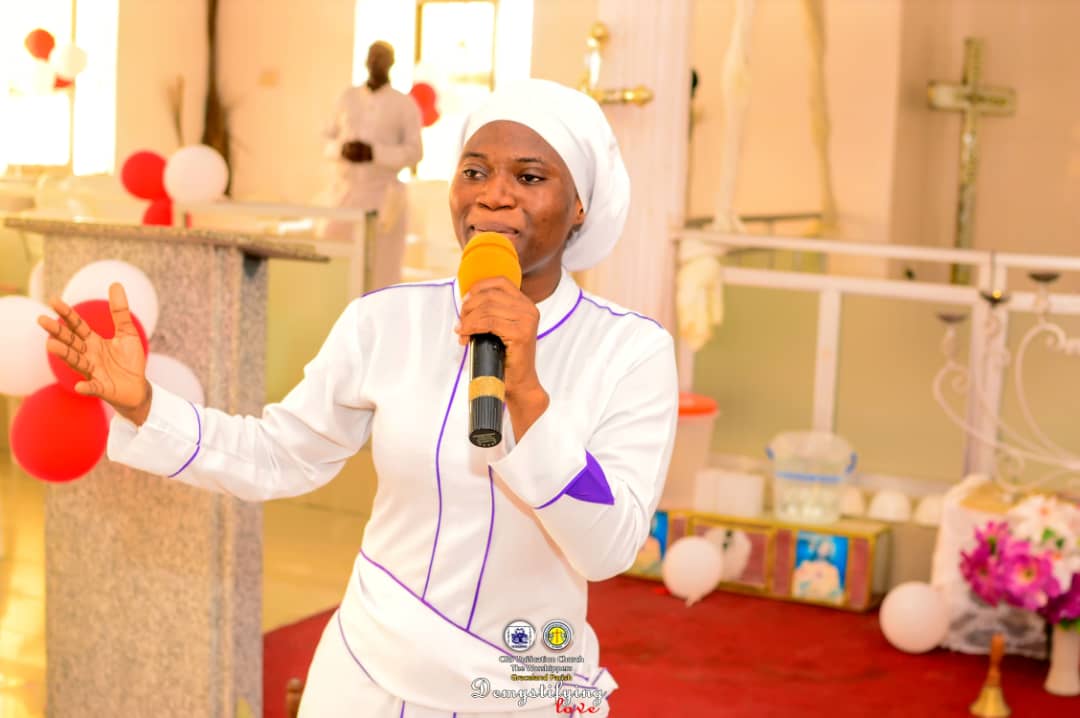 Seraph Stories' series, Seraph Minstrel is dedicated to introducing, showcasing, and sharing stories of C&S gospel artistes all over the globe. In this edition, Layo Sobo shares her musical journey and prospect with our correspondent, Elijah Omosuyi.
Can we meet you, ma?
I am Layo Sobo, a budding Singer, a Creative Content Creator, an On-Air Personality, Events Host, and an Anti-Rape and Sexual Assault Advocate. I am a graduate of Mass Communication from Lagos State Polytechnic, Ikorodu, the first child of 2 (both females) in a family of 3, a lover and child of God, lover of honesty, justice, and truth, a stubborn go-getter, passion-driven babe, and a proud Seraph. I attend CSMC Aanu Oluwa Po at Clem Road. Jankara, a branch of Sabo Oko-Oba District.
Tell us about your musical career, how you got started, and the journey so far?
Music as a career started for me on the 20th May, when God authorized the release of my first single "Wa Wole". Before then, I have been a choir girl since 7, taking the lead in the Junior Choir, growing with time, and eventually becoming a full lead singer in the Choir. 17 years now, we've been in it, working for God. Though I've been a Choir girl, I didn't envisage taking up the music ministry. There had been revelations since I was a child of being an instrument in God's hands, but I never saw it in the music direction. God began giving me inspiration for songs and revelations started coming again then I just obeyed. I didn't even want to because I am always convincing myself that there are too many singers. But then, I had to obey Him.
What is your source of inspiration in terms of your composition and stage performance?
Stage performance yen, let's give it up to my coach and former Choirmaster, M/S/Ap Dele Olusesi. Oh, he drilled me - well, drilled us (in the Choir) but the result is personal to everyone. I remember the times of taking leads during rehearsals and how he'd direct on how to do it well. Then yes, I give myself credit too for yielding to teachings and then God, the Oga patapata for His Spirit. "If no be spirit of God, person for just dey do in vain".
For composition, it all started from my Choir as well. My CM as mentioned is a very great composer but couldn't sing. So when he writes a song (most times with powerful lyrics from the Scriptures), he would call and teach me first, so I teach others. Later on, when I read the Bible and see the lyrics, I will be like Oh, so this is where he got the song from. Then I started doing same gradually till today. If not from the scriptures, inspiration also comes when I'm praying or fellowshipping with God. So many other times, from happenings around me. For instance, for my first song - The Lord Reigneth composed in 2015, I had finished watching the movie Knocking On Heavens Door, and I loved the theme music. It kept ringing in my head and I made a composition out of it. But overall, I give it all to God, no be say we sabi how to do am.

As a gospel artiste, who do you look forward to collaborating with?
Collaborate.... Hmm! Before I started out, I've always said if I was ever to go into music, I'll love to have a collaboration with ASA, she's my model, mentor, I love her! But then, reality came! I've had a collaboration with my very good sister, LizzyDee on I've Come To Worship, the 2nd track in my EP The Secret Place. So I'm gunning to say LizzyDee is my Asa Going forward, I of course will love to work with a lot of the talents we have in the C&S fold and beyond. But for now, I'm going as directed.
Did your church(C&S) have any impact on you fulfilling this height you've attained?
My church - of course, Yes! I am a product of Cherubs Voices, which's the name of my church choir. Feels like that choir is a platform made for me alone sef .
Tell us your plan for C&S church?
My plan for C&S Church is to be a proud ambassador anywhere and everywhere I go! I also look forward to us being grounded more in holiness and Godliness. I don't want to say the things I'm thinking of, so yeah, lol, let's leave it like that.
What is your advice for teenagers who aspire to be like you?
Teenagers that want to be like meeee?, toor! All I just have to say is PUT YOUR ALL IN IT When you're being taught, put your all in it. When you are rehearsing it out, put your all into it. In fellowshipping with God, put your all in it.
Where do you see yourself in five years? 
In five years, I should be a Kingdom Singer as he's called me, singing out his heart to humanity. I should be a wife of a Major-General, mother to Generals, CEO of many businesses, growing and grooming others into the image of God day by day.
Leave Comments