A Prophet Is Determined By One Simple Sentence, "A Prophet Must Have A Call From God" - Prophet J.A Esan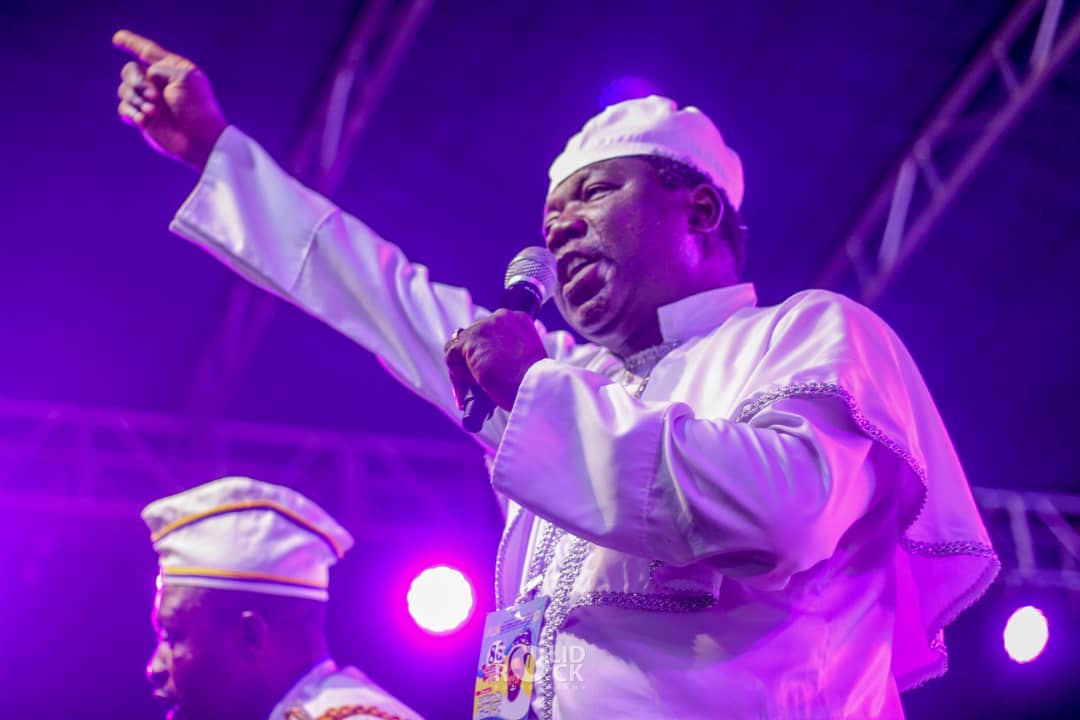 Supt. Gen Apostle. Prophet J.A Esan, the president of the Prophet and Prophetess in Council of the Cherubim and Seraphim Unification Church of Nigeria and the Chairman of the Lagos state territorial conference of the Eternal Sacred of Cherubim and Seraphim Church Hotonu mother churches, in an interview with Shola Afolabi and Bolaji Olasupo spoke on how he got into the church, his journey and the prophetic ministry of the church.
Can we meet you, sir?
My name is Supt. Gen Apostle J.A Esan, the minister-in-charge of the Eternal Sacred Order of Cherubim and Seraphim Oke Aseyori(The Anointed).
We know of your different capacity and service in the church of God. can you tell us more, sir?
 I hold many posts in the church at large. I am the Chairman of the Lagos state territorial conference of the Eternal Sacred of Cherubim and Seraphim Church Hotonu mother churches, the Evangelical Chairman and the Public Relations Officer of the conference board of the Eternal Sacred Order of Cherubim and Seraphim Church, the President of Prophet and Prophetess in Council of the Cherubim and Seraphim Unification Church of Nigeria and the Chairman of National Taskforce on Debt Recovery, to mention but a few.
We heard you were born in Ghana and started from the Agelu C&S church. Can you give a brief on that sir?
 Very true, I was born in Ghana, Amatemequota in Accra to be precise. I grew up in the town of Mugwa close to Accra, up until we were asked to return to our country by the then Head of State named Oshea.  I came to Nigeria in 1970. Before I left Ghana, I had already finished my primary education but on getting to Nigeria, I had to start all over. This slowed down my education, I must say. However, I had all my degrees in Marketing and Theology till Ph.D.
Can you take us through your Journey into the C&S church? 
 My parents and I attended St Peters African Church. Coming to the C&S church was just like a drama, I recall seeing the Army of Salvation (Omo Ogun Igbala), the inquisitiveness to know what their role was, was what prompted me to join the C&S church. The first time I was at the church, I vividly recall sitting close to the entrance when one of the spiritualists came to me and said "Iranse, ise pupo be niwaju omo eniyan" meaning there's a lot of special assignment from God for me. I was not convinced but I had a friend who always persuaded me to attend the church. I started at C&S Apata Ipile Otito, Iwaya. I was there for 23 years, I served as the general secretary of the church for 14 years, and it was during my tenure the name Apata Ipile Otito came about. The name Apata Ipile Otito was uttered by me and after 23 years God said I should leave. 
How did the church, Oke Aseyori(The Anointed) started?
The Lord gave me three years, 1995 to 1998 to achieve all I could, and those years He came with a reminder, "Olorun Esan Odun Meta, Olorun Esan Odun Meta". The year ended December 1998 with no additions. At that time my branch at UAC had to close down, my branch was the first to close down in UAC. The Lord told me not to go in search of any job but I was scared because my children were still in primary school. I got another job in Domino's as a Store Manager. Two weeks before my resumption they had a crisis at my resumption place which led to the intervention of the Panti police station. It was a very serious crisis, my younger brother was also involved in the crisis which was part of the signs the Lord gave me not to work in a firm again. The Lord instructed me not to work in any firm as it would land me in serious debt. After I lost my job, the Lord asked me to give out my car that was a very strange part of my story. It was a hard decision to make on me but I ended up giving it to my mechanic.
I enquired on how to start the church, He said I should go to bar beach and start a vigil. In his words, "He gave an assurance of multiplication," and so I started. Not quite long the Lord instructed me to leave C&S Apata Otito Iwaya to start my church with a specific date. God brought me down to level zero and he picked me up from that level to a greater height.
Prior to your over 40 years of experience in church growth, what can you say enhances the growth of a church?
So many factors are considered responsible for the growth of a church. Firstly, the minister; the minister is a significant figure and greatly determines the fate of the church. He or she must be well informed as well as have a call just like a Prophet or a Prophetess because a call is the first requirement of a Prophet or a Prophetess. He or she must find out what God has ordained him or her to do. The ministry is very difficult but not an impossible task. Every minister must prioritize his or her spiritual growth. One must also consider the need to be educated because it is necessary to make headway in the ministry. 
You came from the St. PETERS African Church to the C&S church. What can you say about the C&S church?
While I was in the African church, I didn't know anything about Christianity, I wasn't born again until I got to the C&S church. My experience in the C&S church was very challenging. It was challenging in the sense that unless you are called into the fold you may not be able to survive it, especially when God wants to use you. Different kinds of challenges from all kinds of people in the church, your peers, your superiors, and even the inferiors, but, in all I thank God. Today, things are changing; there are spiritual growth and educational exposure. My observation these days is just that the character of our people is diminishing and it is nothing to write home about.
The C&S church is very graced because of the guidance from the holy spirit. It is a church that matches up with the current dispensation as a spiritual and living church. We are at the end time, people need a church that will tell them what is needed at every point in time and that's what the C&S church is all about.
Being the President of the Prophet & Prophetess of the C&S Unification Church of Nigeria, What are the criteria for ordaining people as a Prophet? 
A Prophet is determined by one simple sentence, "A Prophet must have a call from God". Any Prophet that doesn't have a call is not a Prophet. There is no promotion in the prophetic ministry, being a seer, visioner or you go in a trance for days is not a determinant. A Prophet has to be called by God, or he may just be a spiritualist. Although, many prophets are called but lack knowledge and direction. The word direction is very vital, as it determines how to go about your call, or your call may turn to a curse.
To excel in the prophetic ministry "HONESTY" is key and service to God in TRUTH and SPIRIT. You have to be conversant with prayer and fasting and also you need to at least possess minimal education. 
At the Unification level, Is there a criterion for people that come into the prophetic ministry, or is it by delegation?
To be a Prophet at the C&S Unification Church of Nigeria, first, you have to be a Prophet from your constituent church but we are working towards some regularization that Prophets are ordained at the centre.
At the just-concluded dedication of the Secretariat and the Women Empowerment Centre, Rev. Mother Esther Abimbola Ajayi said she won't grant invitations from churches that are not Unification, can Unification be the centre of all the C&S Churches? 
Yes! It is possible, just because other sects have started before Unification just like OAIC which encompasses all African Indigenous churches and is just a block of Christian Association of Nigeria, but the C&S Unification Church needs to work harder to bring all the factions together under one umbrella.
Say something about the youths of this generation?
 The youth! May the Lord save us. We can see so many developments and growths but we need to be very careful about the proposed growth not to turn into a dangerous one. The source of the growth is money sponsoring. Our fear is that if the money is no longer available, will the youths move at the same pace as it was? Can we be consistent? Can we sustain the tempo if the money is not there? This is a very big question indeed. I can't say for now because the turn out of youths at events has been quite impressive, we have not gotten to where we are going until it is consistent. Also, let me say a lot of youth got corrupted with the new development which is unhealthy for the church. It is not the fault of Rev. Mother Esther Abimbola Ajayi because she had good intentions and there is no crime in that just that we need to be careful.
The name of your church is "Oke ASEYORI" (Mount of Success). What are the criteria for success?
 Success is many things but it all boils down to one, you must know your God and have a personal relationship with him, be a faithful Christian - the Abraham kind of faith which can sustain your Christian life, live in holiness. I believe with all these, you will get to where you are going.
A word of advice for the Church?
The church needs to be born again, it should go through regeneration and rebirth. The church needs to know more about the scriptures and do away from all things fetish.
Leave Comments